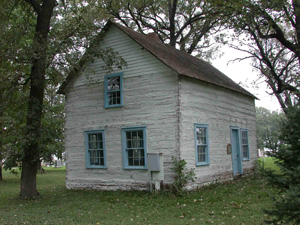 Tverberg Cabin - Early Church Home


On, June 12, 1856, Reverend C. L. Clausen (Claus Lauritz Clausen) of St. Ansgar, Iowa, visited the settlement and organized the congregation. One Congregation was formed on the settlement and known as "Saint Olaf Norwegian Evangelical Lutheran Congregation". Although there is no direct record of the organizational meeting, it appears from a loose paper, Reverend Clausen conducted a service at which 15 children were baptized and the cemetery was dedicated.

The service was held under a large oak tree south of the present East Saint Olaf Church. The cemetery served as the burial ground for the entire settlement and is the present East Saint Olaf cemetery west of the church. There is no record indicating Reverend Clausen made any further visits to the settlement.

The children baptized by Reverend Clausen at the first service, June 12, 1856 were as follows:
Guri Nilsen, daughter of Stengrim and Guri O. Nilsen
Jens Gunderson, son of John and Anne Jensen
Ola Golberg, son of Tollef A. and Kari N. Golberg
Mari Golberg, daughter of Tollef A. and Kari N. Golberg
Olin Nilsen, daughter of Nils and Christine Pedersen
Oline Stensrud, daughter of Halvor and Randi Stensrud
Mari Nilsen, daughter of Syvert Nilsen and Mathea Erickson
Mari Amundsen, daughter of Ole Amundsen and Helene Hansen
Svend Christensen, son of Thrond Christensen and Synneva Olsen
Lorentz Anderson, son of Aren Andersen Top and Anneka O. Top
Arne Aasved, son of Johannes Anderson Aasved and Bendika H. Aasved
Ranghild Jurine, daughter of Even Halverson Holtane and Marken Knudsen Holtane
Olaus Kaasen, son of Ole O. Kaasen and Kari Thorsen Kaasen
Anlaug Moen, daughter of Anders Thorgrimsen Moen and Anlaug Kittilsen Moen
Helge Oline, daughter of Ole Olsen Hvammen and Aslaug Olsdatter
It took several years before the congregation received regular service. Due to the lack of communication, mode of transportation, and distances involved, the new congregation experienced difficulty obtaining a resident pastor. As the settlement waited for a resident pastor, the congregation continued to move forward in establishing a church unit.

In 1857, the Saint Olaf congregation bought 60 acres of land for $225.00, and a log house was erected. A log house was built and served as the Pastor's home until 1877.

Reverend J. S. Munch (John Storm Munch) of Dodgeville, Wisconsin visited the congregation in the early days, but any written account of his visit is lacking. In October 1858, Reverend A. E. Friedrichsen (Anders Emil Friedrichsen) visited the congregation. He baptized five children, but nothing further is recorded as to his activities. Pioneer pastor Nils Olsen Brandt of Rock River, Wisconsin visited the congregation.

An early record of the congregation reveals Reverend A.C. Preus (Adolph C. Preus), President of the Norwegian Synod of Koshkonong, Wisconsin, acknowledged the congregation at a meeting with the congregation on October 27, 1858. The Saint Olaf congregation was asked, "Do you acknowledge the name and organization adopted in the presence of Reverend Clausen in 1856?" The congregation's reply was an unanimous, "Yes".

On November 13, 1858, a call was extended to Reverend A.C. Preus (Adolph C. Preus) to serve the congregation for one year. Reverend Preus accepted the call and during the following year, 1859, he made two or three visits to the congregation, during which he baptized a large number of children. He possibly may have also conducted confirmation and communion services at the time, but records are lacking.

May 11, 1858 ~ Minnesota became a state.

1860 - About 55,000 Norwegian immigrants now lived in the states of Illinois, Wisconsin, Iowa, and Minnesota. 60% were born in Norway. The Norwegian Synod with 29 clergy and one hundred congregations represented the largest gathering of Norwegian Lutherans in America.

At a meeting of the St. Olaf congregation held April 17, 1860, the following resolution was adopted: "The congregation calls Reverend N.E.S. Jensen (Nils Edward Schancke Jensen) of Fillmore County, Minnesota to serve as temporary pastor from April 1860-May 1861. Reverend, who conducted the meeting, accepts this call. He visited the congregation three times in 1860 and two times in 1861. In 1860, the first confirmation and wedding was performed in the Parish. Reverend Jensen baptized 84 children, performed a number of marriages, and also conducted confirmation and communion services during his call.

The first Confirmation Class on record in 1860, included the following young people: Ole T. Kristensen, Ole N. Fladevak, Bernt J. Andersen, Gunhild J. Gunvalsen, Anna O. Tollefsen, Marte N. Syvertsen, Marta L. Sjursen, Bergit E. Skogsmark, Tharan H. Olsen, Maren Andrine B. Engen, Iver E. Ellingsen, Guulek T. Guuleksen, Helene N. Kristnesen, Gunhild N. Eildfsen, Kari K. Kittelsen, Marit E. Knudsen, Ingeborg L. Knudsen, Kari K. Haldorsen, Marit O. Mikkelsen, Anne O. Amundsen, Ronnaugh H. Torgersen, Udna Karine S. Hansen, Synnove T. Sevaldsen.

The first recorded wedding took place on April 16, 1860, when Reverend N.E.S. Jensen united Emil Falch and Guro Reiersen in marriage.

1861 - The American Civil War started. From every settlement Norwegian immigrants went to war.

The pastors who visited the settlement preached and performed ministerial acts such as baptizism, instruction, catechism, confirmed children, weddings and funerals. In addition to schoolhouses certain farmhouses throughout the parish were regularly used as places of worship. Homes were Tollef O. Golberg, Aslaug Aaby, Hans J. Gronsteen and John P. Tverberg. Because of large size of the Tverberg home, this was used most frequently as the place of worship. The upstairs of the Tverberg home was used as a school and was the first school organized in Vernon Township of Dodge County, Minnesota.

In August 1861, Reverend Lauritz Steen became the first resident pastor. He served the charge, including Bear Creek and Rochester for 8 years. He conducted 101 services in the John P. Tverberg home.

On January 2, 1862, a congregational meeting was held at the Saint Olaf parsonage for the business of building a church. The following was decided regarding building a church: Those present decided to build a church as soon as possible. Resolved that it should be a "frame" church according to the same lines as the church in Holden Congregation, Goodhue County, Minnesota. That it should be built on the parsonage grounds. A building committee of 7 members was elected; Aslak Aaby, Hans Johnson, Andrew Halvorson, Christen Hellekson, Ole S. Saetre, Jacob K. Thoe, Thrond Christenson. In behalf of the congregation, E. Strangeland, Chairman & J. L. Skjerve, Secretary.

However, building operations did not commence for sometime. There were many obstacles to overcome. In the beginning the plan was build only one church. But before long some of the members living in the western part of the parish settlement commenced to advocate the building of 2 churches. The idea found more and more favor.

On November 28, 1863, the congregation members decided to build 2 churches. A church on the western part of the congregation settlement and a church on the eastern part of the congregation settlement. At the same time as 2 churches were planned the congregation remained one corporation for several years.

Very early schools were organized for the religious instructions of the children. This conclusion comes from the records of Reverend Steen. In 1863, religious schools were conducted in 4 different districts. The teachers were Knut Knutson, Sletto and Aslak Halversen. The following year, Taerge Jorgensen Hjemdalen also served as a teacher.

1865 - The Civil War has ended

Several meetings were held at which building plans were discussed and revised. Finally in 1866, it was decided to build a stone church a few feet longer and wider than the Holden Church in Goodhue County. Likewise it was decided to build the church on the lot donated for that purpose by Haldor Bystolen, one acre of land located east of the parsonage.